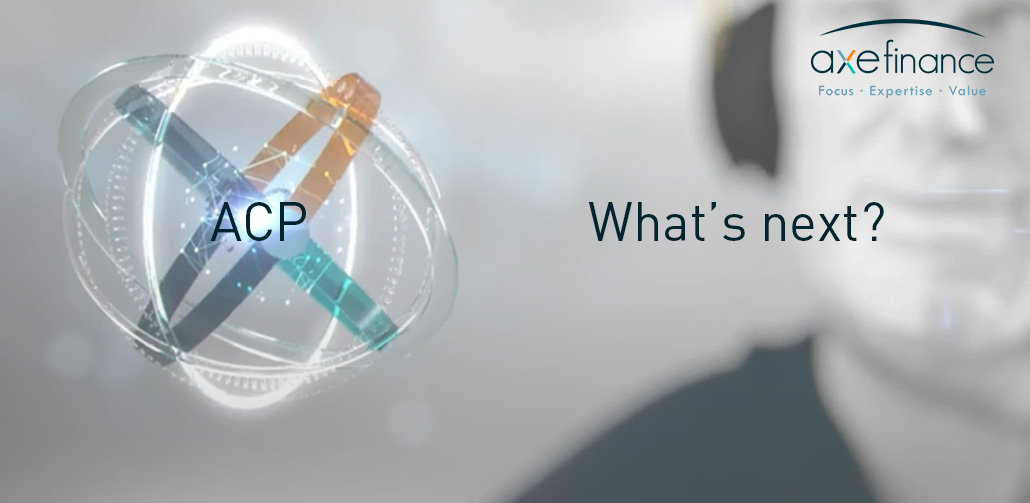 ACP Lending Digitalization solution, always at the vanguard of the LendTech Market
The product teams at axefinance continue their commitment to a user-centric design approach and best-in-class level of user experience. They focus on facilitating ACP adoption by end-users while offering the most innovative features in the LendTech market. ACP's upcoming developments will include many long-awaited features such as cloud access to ACP, AI & ML-powered credit risk evaluation & process automation, and an ACP Omnichannel seamless experience.
Besides, axefinance will capitalize on ACP strengths like flexibility & scalability by maintaining ACP framework at the forefront of the technology.
Check out what's next in ACP solution.
ACP Framework enhancements and new features
ACP Framework is the set of core business features, engines, and tools natively integrated in ACP and ensuring a user-friendly design and an easy customization of ACP screens. Furthermore, this framework helps comfortably configure the bank's workflows even for the most complex credit processes. It also ensures highly reliable screen rendering and orchestration.
The ACP Framework enhancements include:
KYC configuration capabilities
Event-driven microservice architecture
Workflow exception management
etc.
axeAI, Artificial Intelligence & Machine Learning-powered features
Through this new module, axefinance is aiming at empowering the bank with AI-driven innovative functionalities for a compelling digitalization of the loan origination process.
axeAI module includes:
An end-to-end retail lending process automation including digital onboarding, System decision using ML generated scorecards, document recognition and content extraction, etc.
An enhanced corporate credit risk evaluation and monitoring including adverse media tools etc.
An enhanced collection activity leveraging ML-based early warning models
Etc
Such valuable AI-based features help banks reach the highest levels of customer satisfaction offering them innovative banking products and an outstanding customers' lending journey.
axeOmnichannel, a seamless lending journey on the go
axeOmnichannel is the combination of ACP Business Services designed around the four building blocks wACP, myACP, mACP & pACP. This module offers flexibility and highly configurable features through the lending digitalization journey for each and every bank segment (Retail, Commercial, SME, Corporate, etc.)
In the upcoming releases, mACP new features and enrichments encompass:
Onboarding and credit initiation improvements
Customer 360° view
Contextual and hyper-location features
Additional authentication factors
Mobile GUI designer
axeBusiness Rules Engine, a total self-sufficiency while configuring your credit policies
axeBRE packages a set of composers, functions, and services to offer a meaningful and valuable user experience to ACP business administrators. Allowing them to build, test, and validate simple and complex rules while ensuring continuous compliance with credit policies.
axeBRE main achievements are:
Mass processing
Improved access rights and audit trail
Enabled traceability report
Thanks to the above-mentioned enhancements, axeBRE continuously boosts the way bankers deal with the implementation of business rules (pricing, control validations, etc.) in a way that does not necessarily require any high tech-savviness.
Xdoc: Consistency, Compliance, and a fully paperless credit process
Xdoc empowers ACP users with the ability to manage document lifecycle across credit application origination, approval, and post-approval stages. Starting from the design of a custom template to the release of a final version of a document.
axeLoan Management System
So far, ACP integrates basic LMS features, through the upcoming releases a new comprehensive module of Loan Management System will be integrated with ACP suite. axeLMS is a core lending system hosting credit contracts, managing credit accounts, enabling credit events/servicing transactions, and assisting in amending limits definitions.
axeBI: ACP Business Intelligence module for a perfect monitoring of your lending activities
axeBI is the analytic dimension allowing to render ACP data into various KPI's and build theme-based dashboards including:
Datamart
Historical reporting
Data mining
Processing Event
Business Performance Management
Benchmarking data
Axe Credit Portal, a unique platform and a myriad of benefits with an ultimate goal, unleashing the power of innovation to offer the best-in-class credit process automation to lenders.
>> Fill out this form to request a demo and learn more about ACP's innovative features.
>> axefinance customers are invited to get in touch with their account managers to learn more about these upgrades.