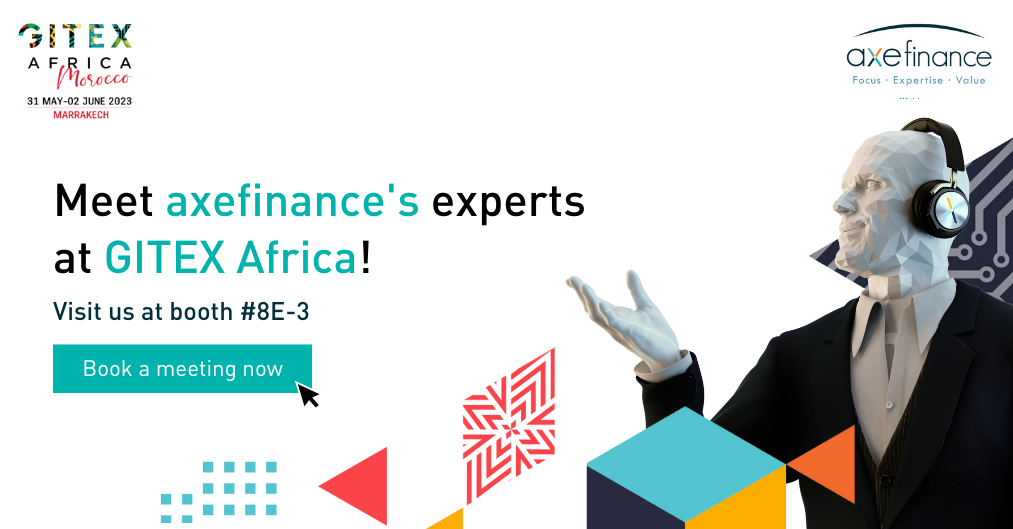 Discover the future of lending at GITEX Africa
We are excited to announce our presence at GITEX Africa in Morocco. Catch us as we exhibit in the largest tech and startup event in Africa this 31st May to 2nd June 2023.  
Stay ahead of the curve, visit us at booth #8E-3 and discover the future of innovative LendTech as we present our AI-powered future-proof digital lending solution – Axe Credit Portal (ACP) – along with its newly released modules and latest updates. 
As a valued exhibitor of GITEX Africa, we can provide attendees with a special discount on entry passes. Don't miss out on the opportunity, reach out to us to get your exclusive promo code and to schedule a meeting with one of our experts now: https://www.axefinance.com/contact-us/ 
LET'S MEET AT GITEX AFRICA, BOOK A MEETING WITH OUR EXPERTS  
Save the date: May 31 to June 2 2023
About GITEX Africa:
Africa's largest all-inclusive tech event. The show will connect global tech leaders, governments, SMEs, start-ups, coders, investors, and academia, to accelerate, collaborate, and explore new ventures. A curation of emerging technologies from fintech, e-commerce, cloud, IoT, AI, telecom to cybersecurity will be heavily featured during the three-day annual pan-African forum in Marrakech, Morocco. 
Check out our documents
Resources