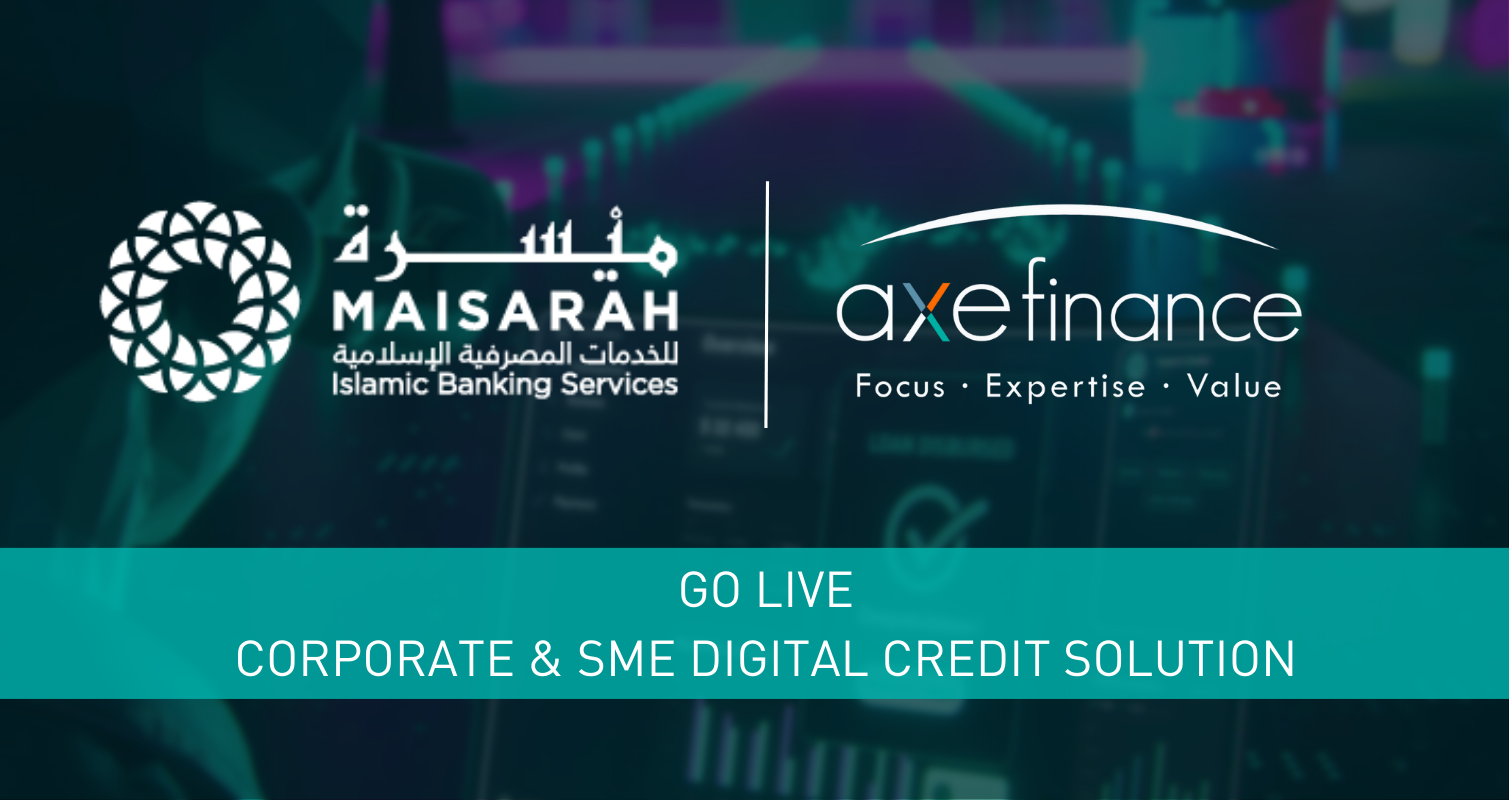 MIBS steps us Corporate and SME financing performance with ACP software
Abu Dhabi, March 2023 – Leading Credit digitalization solution, axefinance, completes successful rollout with Maisarah Islamic Banking Services MIBS for the Corporate & SME units.
Maisarah Islamic Banking Services (MIBS), one of the fastest-growing Islamic windows in Oman with a broad range of Sharia-compliant financial products and solutions in Corporate banking, Retail banking, Investment banking, and Treasury, has previously announced its partnership with axefinance for a fully automated credit process to heighten its competitiveness in the market.
From that point forward, the Islamic window of BankDhofar in Oman has embarked on a credit & financing transformation journey with the objective of significantly boosting its assets performance and shifting away from all manual credit processing thanks to ACP software.  Axe Credit Portal also covered the collateral creation and valuation and the omnichannel journey.
The first milestone for the Corporate & SME Credit Automation was recently achieved successfully and has been followed by valuable training sessions to ensure a perfect adoption of ACP by all Maisarah credit stakeholders.
Fawaz Al Ojaili, Head of Corporate Banking at Maisarah said:
Lifting Maisarah Corporate & SME Credit to the latest technology stack with the innovative ACP features started delivering benefits in terms of business performance and efficiency. Our trust in axefinance's continuous support and its innovative solutions is why we have chosen them to extend the automation to the Retail Financing unit. Our partnership with axefinance is a big asset towards our challenge of being the best Islamic bank in the region.
Selim Dridi, Project Director at axefinance commented:
ACP's successful rollout at Maisarah is a giant leap forward to cutting-edge and competitive credit at MIBS. It helped the bank offer its corporate and SME customers seamless financing journeys while leveraging a composable and future-proof solution to expand in the Islamic finance Omanis space at scale. We are ecstatic with the initial performance improvements and we are very confident that the retail automation at MIBS will follow the same trend. Lastly, a unified view of all the Maisarah lending activity through one single platform, ACP, will be a big asset in monitoring the credit performance and executing the right strategies that will take it to the next level.
Maisarah and axefinance teams are now working on the next milestone which is an end-to-end automation of the Retail financing unit to deliver digital financing empowered by a seamless omnichannel financing journey for Maisarah customers and employees alike.
About axefinance
Founded in 2004, a global market-leading software provider focused on credit risk automation for lenders looking to provide an efficient, competitive, and seamless omnichannel journey.   
axefinance developed Axe Credit Portal – ACP – a future-proof AI-driven solution to automate the entire credit lifecycle from KYC to servicing including origination, credit scoring, and automatic decision-making.   
ACP is a multi-segment digital lending solution covering not only Retail, Commercial, Corporate, FIs, and Sovereign segments but also other specific types of lending such as Microfinance, BNPL, embedded financing, Islamic finance, debt servicers, and collectors.