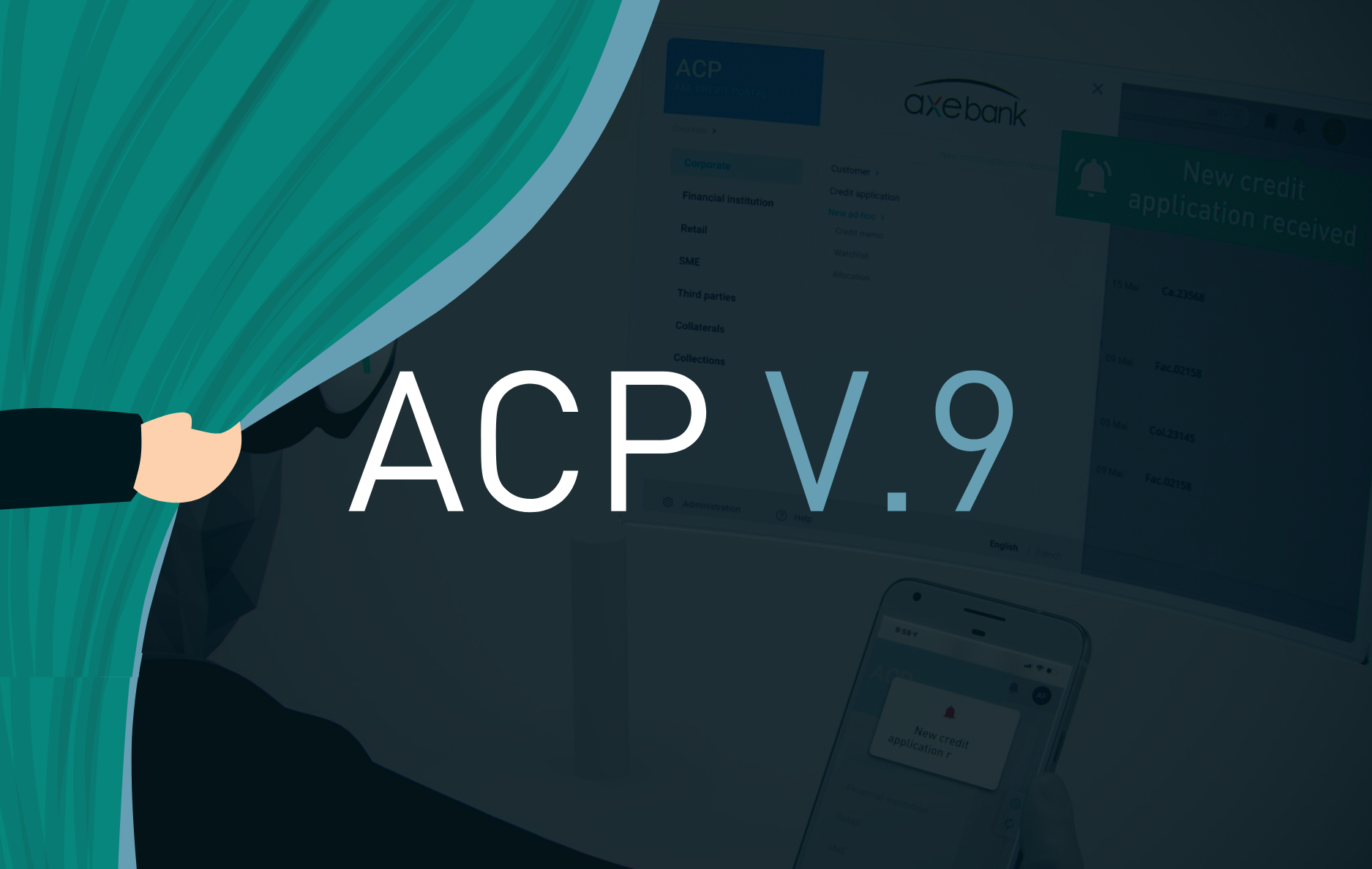 UNVEILING ACP V.9, ENABLING LENDERS WITH INNOVATIVE FINANCING JOURNEYS

We are thrilled to announce the release of ACP V.9, the brand-new software version enabling lenders with the most innovative financing journeys!
Design thinking is at the heart of axefinance's disruptive innovation strategy; an iterative, multi-stream, and customer-centric process of ideation & prototyping to unleash state-of-the-art lending technology over and over. ACP V.9 is the outcome of this ideation process, it combines revamped features and new modules such as a top-to-bottom makeover of the UX/UI, new AI-based lending features, and architecture enhancements. This latest version of ACP offers lenders and customers a smoother user experience, greater flexibility and scalability, and faster financing journeys, among many other benefits.
CHECK OUT WHAT'S IN STORE WITH THE NEW ACP V.9
UI/UX total revamp:
The ACP V.9 UI/UX revamp provides a smoother user journey across a myriad of already innovative ACP features, with emphasis on streamlined navigation, reduced number of clicks, guided workflow steps, and more.
Capitalizing on ACP's flexibility and scalability to allow it to be a fully composable and future-proof innovative digital lending solution, ACP V.9 technology enhancements include a new set of APIs, new workflow engine functionalities, and event-driven microservice architecture among many other enhancements.
A new generation of administration tools
to adjust to an ever-changing lending market
ACP V.9 includes the revamp of axeStudio (ACP built-in low code administration tools) allowing more granular customization to create and amend credit policy rules, workflows, documents, and interfaces in total self-sufficiency.  
Improved BI & dashboarding capabilities
for a 360° view of your lending activities
The ACP V.9 empowers lenders with fully customizable drag-and-drop BI and dashboarding capabilities for perfect monitoring of all lending KPIs. From credit volumes, TAT, TTM, Exposure to other indicators with different breakdown levels (RM/region/country/territory, and periods)
Omnichannel financing journey for all credit stakeholders
A seamless omnichannel financing journey instantly connecting all credit stakeholders including bankers, customers, Point-of-Sales (POS), and bank partners across all platforms and channels.
New AI/ML-based lending features
to leverage the most recent advances in this field 
ACP V.9 leverages a new module of innovative AI and ML-powered functionalities to support the automation of the entire credit lifecycle starting from KYC up to Servicing.  
ACP Loan Servicing
 for efficient automation of the post-approval loan lifecycle
The new ACP Loan Servicing serves as the final piece to truly complete ACP's end-to-end digital loan lifecycle value chain, a new module that efficiently automates every step of the loan servicing process such as re-negotiation, re-scheduling, and variable-rate loan changes.  
Xdoc, a fully paperless credit process as per lenders' templates
Xdoc allows users to manage documents, from the design of a custom template to the release of the document's final version, across different stages of the lifecycle such as credit application, origination, approval, and post-approval.
Bringing a myriad of benefits, ACP V.9 harnesses advanced technology to optimize credit lending performance, perform better risk assessment, ensure regulatory compliance, and reduce operational risks while offering the best-in-class digital lending experience to bankers, customers, and all internal and external credit stakeholders alike.